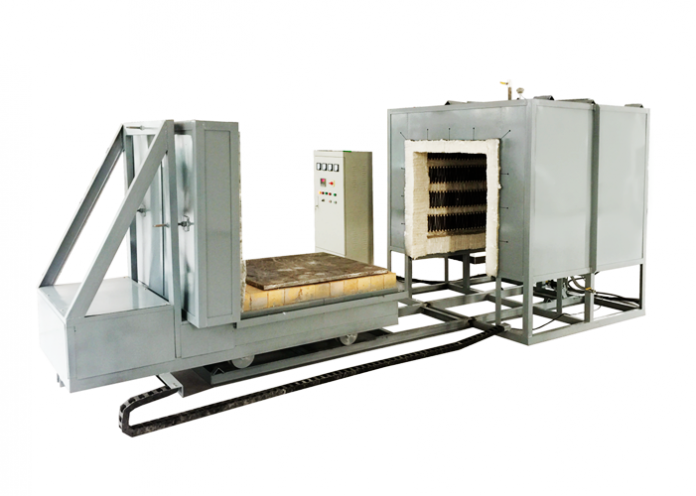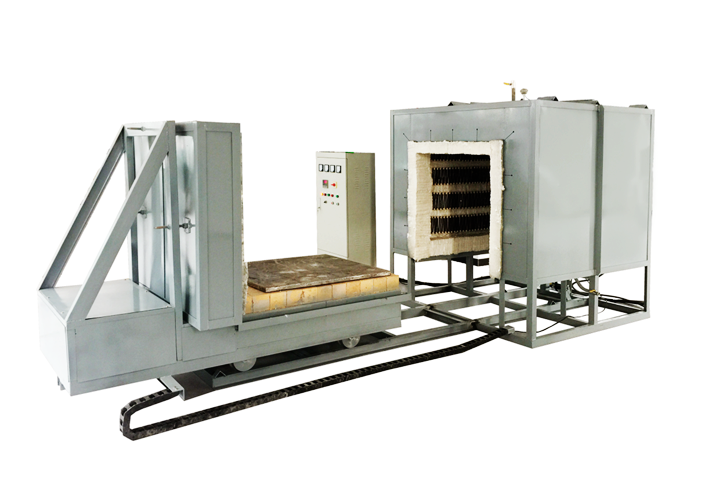 High Temperature Bogie Hearth Furnace Up to 1200℃
The design of the bogie hearth furnace is divided into two types: medium temperature (0~ 950℃) and high temperature (0~1200℃), which is mainly used for high chromium, high manganese steel castings, gray cast iron parts, ductile iron parts, rolls, steel balls, crusher hammers, wear-resistant linings quenching, annealing, aging and heat treatment of various mechanical parts.
Bogie Hearth Furnace Features
Maximum temperature 950℃ and 1200℃.
All-fiber ceramic lining, high thermal efficiency, low heat loss, and long lifetime.
The four-side heating device achieves excellent temperature uniformity.
Japanese ceramic nails, ensure the installation of heating elements with a long lifetime.
Build a horizontal silicon carbide plate/high temperature cast steel plate for the trolley.
Intelligent program temperature controller, which is available to edit and save the multi-segment program for this Bogie Hearth Furnace.
Standard Spares:
Electrical hydraulic lift furnace door.
Circulating hot air blower and thermal deflector.
Horizontal moveable auxiliary trolley.
Automatically turn-able trolley easy for quenching.
Temperature control by different zones to improve temperature uniformity.
PID automatic control system to monitor and record in real-time.
Top exhaust valve, and inlet valves on both sides.
Optional Parts:
7-inch touch screen
PLC auto control
Furnace furniture
Software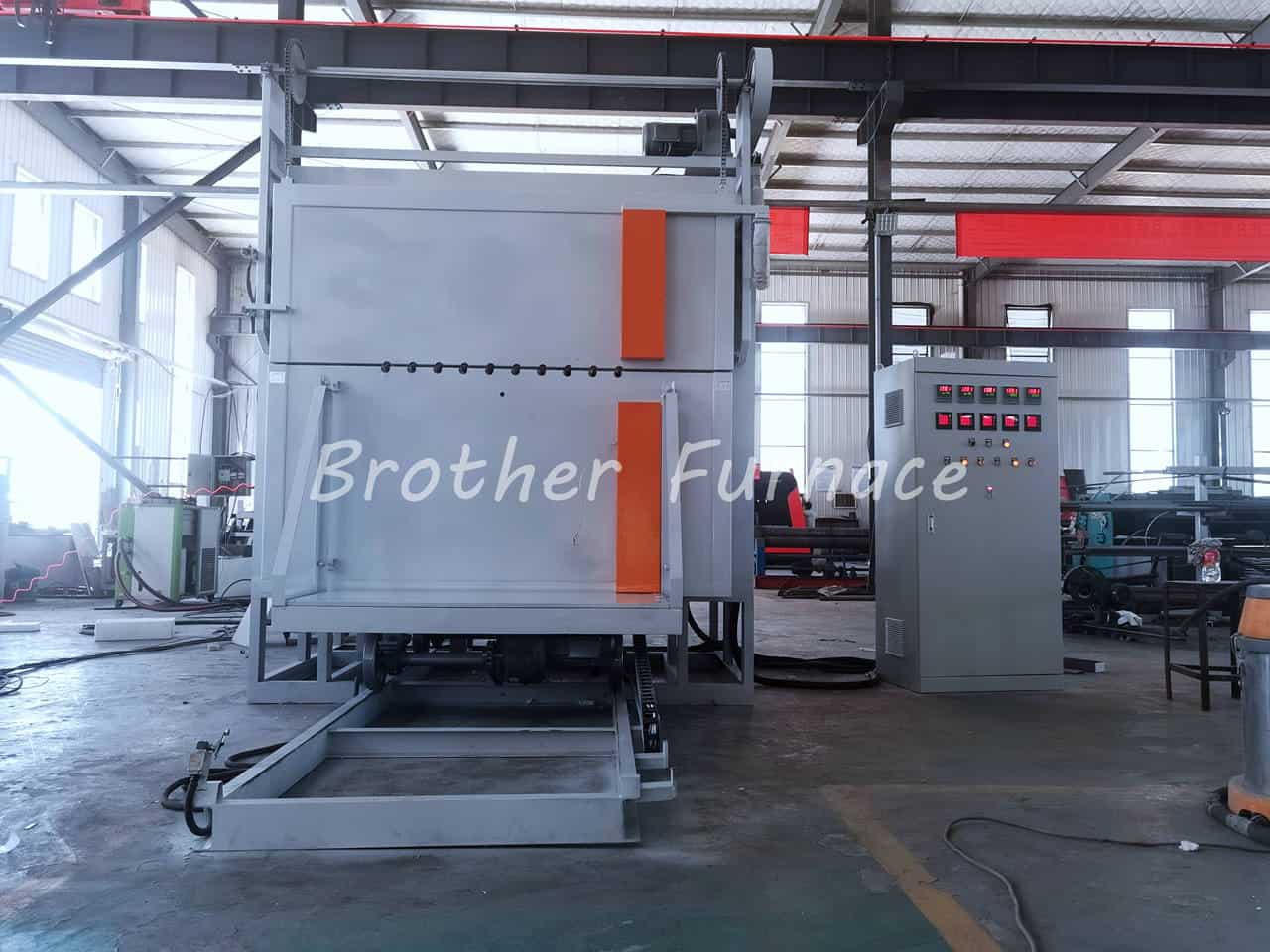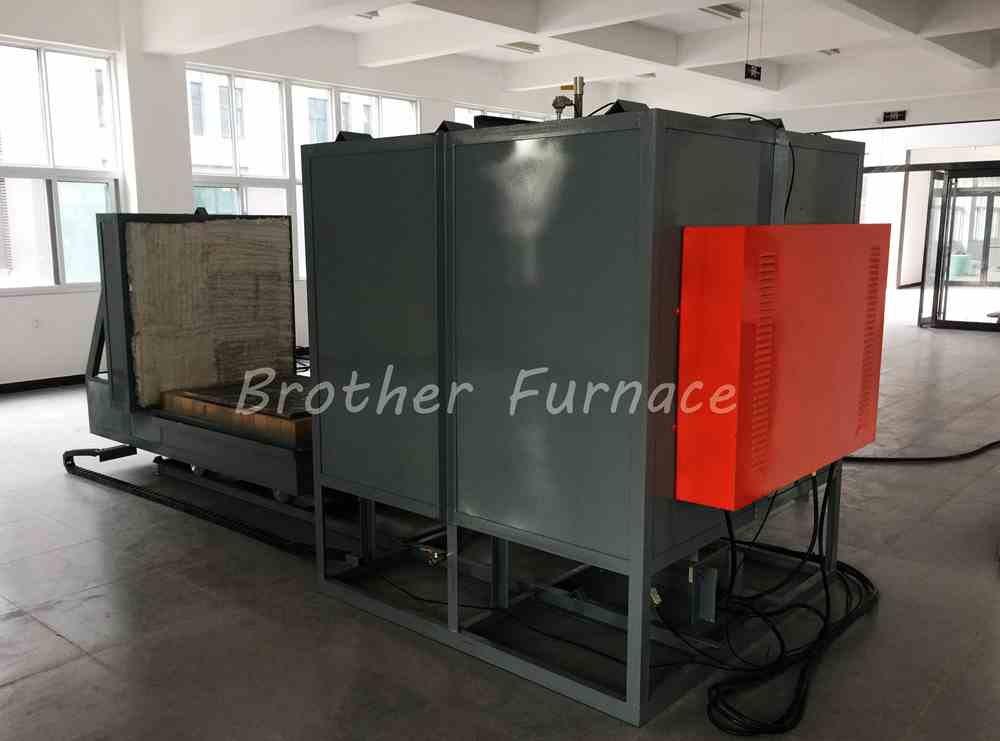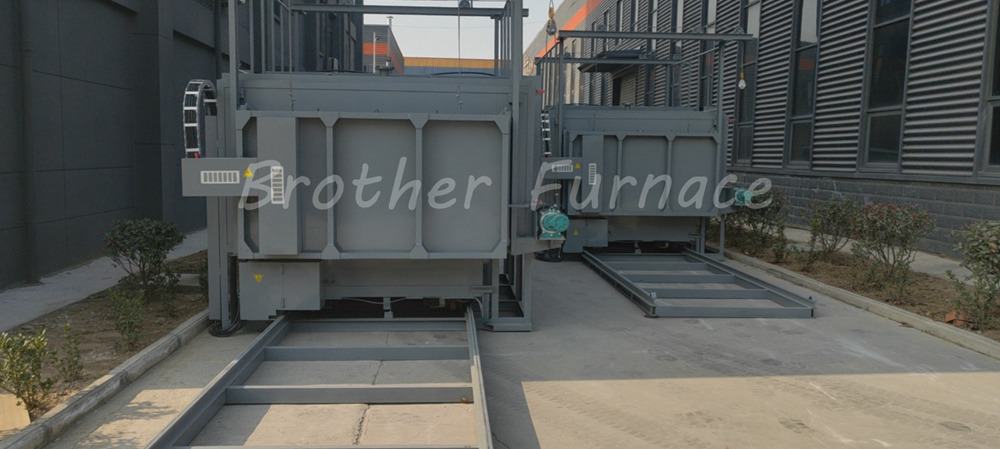 Bogie Hearth Furnace Technical Specifications

Max. temperature
1200℃ (<2hour)
Working temperature
1100℃
Temperature controlling

●  PID automatic control via SCR (Silicon Controlled Rectifier) power control with phase angle fired, current limiting resistor.
●  51 programmable segments for precise control of heating rate, cooling rate and dwell time.
●  Built in PID Auto-Tune function with overheating & broken thermocouple broken protection.
●  Over temperature protection and alarm allows for operation without attendant.
Temperature accuracy
± 1℃
Temperature Uniformity
± 5℃ over 100 mm @ 1200℃
Heating rate
0-20 ℃/min
Thermocouple
K type (Ni-Cr to Ni-Si) with 99.7% purity Alumina tube
Heating element
Spring wire or belt of Fe-Cr-Al Alloy doped by Mo
Furnace Chamber
High-quality insulation materials
●  Alumina Bubble Brick
●  Ceramic Fiber Module
Furnace structure
Double-layer steel casing with dual cooling fan, the surface temperature below 60℃
Furnace door
●  steel plate and steel oven door adopt manual or mechanical transmission
●  Power cutting off when furnace door open
Working voltage
110V or 220V, 50HZ/60HZ, 1 phases (As per your order)
Rated power
65KW -200KW
Warranty
●  One year limited warranty with lifetime support. (Consumable parts such as heating elements and crucibles are not covered by the warranty, please order the replacement at related products)
●  ATTENTION: Any damages caused by the use of corrosive and acidic gases are not under the coverage of One Year Limited Warranty.
Certifications
CE

Application Notes

Using Attentions
●  The cooling rate of this Bogie Hearth Furnace shall also not exceed 10 ℃/min.
●  Toxic or explosive gases are not recommended for use with this furnace without necessary safety controls and supervision.
●  Small cracks may appear on the surface of the refractory ceramics over extended use. This is a normal occurrence and the cracks may be repaired with alumina coating.
●  Refractory door block must be inserted before closing door.
Bogie Hearth Furnace stander size:
| | | | |
| --- | --- | --- | --- |
| Model | Chamber size (LWH)mm | Power (KW) | Dimensions (LWH)mm |
| BR-CBF-45 | 1100×550×450 | 45 | 3040×1480×1620 |
| BR-CBF-50 | 1300×650×450 | 50 | 3240×1580×1620 |
| BR-CBF-75 | 1500×700×600 | 75 | 3440×1630×1770 |
| BR-CBF-90 | 1500×800×600 | 90 | 3440×1730×1770 |
| BR-CBF-105 | 1800×900×700 | 105 | 3740×1830×1870 |
| BR-CBF-135 | 2100×1050×750 | 135 | 4060×2010×1980 |
| BR-CBF-150 | 2300×1200×650 | 150 | 4260×2560×1880 |
| BR-CBF-300 | 2500×1500×1500 | 300 | 4690×2860×2750 |
| | | | |
| --- | --- | --- | --- |
| Model | Chamber size (LWH)mm | Power (KW) | Dimensions (LWH)mm |
| | | | |
| --- | --- | --- | --- |
| BR-CBF-65 | 1100×550×450 | 65 | 3100×1600×1750 |
| BR-CBF-75 | 1300×650×450 | 75 | 3300×1700×1750 |
| BR-CBF-110 | 1500×700×600 | 110 | 3500×1750×1900 |
| BR-CBF-120 | 1500×800×600 | 120 | 3500×1850×1900 |
| BR-CBF-150 | 1800×900×700 | 150 | 3800×1950×2000 |
| BR-CBF-210 | 2100×1050×750 | 210 | 4120×2130×2110 |
| BR-CBF-220 | 2300×1200×650 | 220 | 4320×2680×2010 |
| BR-CBF-450 | 2500×1500×1500 | 450 | 4750×2980×2870 |
See our other Furnace:
Follow us on Facebook