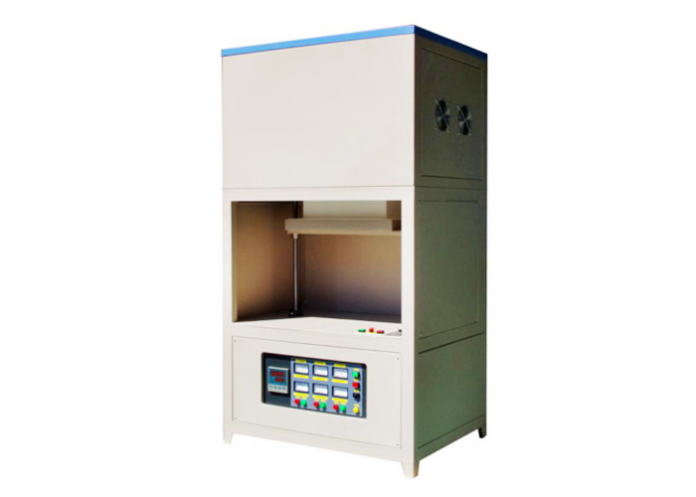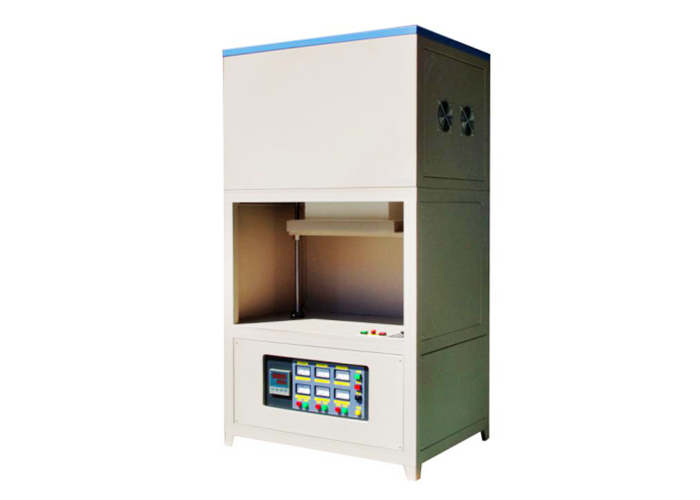 High Temperature Bottom Loading Furnace up to 1700℃
The bottom loading furnace is very convenient to load and unload, and the heating elements are distributed around the furnace evenly so that the temperature is uniform. The working temperature is from 0°C to 1700°C.
The lifting platform is located under the electric furnace, which can be lifting manually or automatically. The furnace can also be made into a Bogie Hearth Furnace, which is convenient to operate.
The bottom loading electric furnace is widely used for battery materials, electronic ceramics, magnetic materials, non-ferrous metals, chemical raw materials, etc. Meanwhile, it is suitable for sapphire wafer annealing and zirconia sensor heating treatment in scientific lab or universities, etc.
Max temperature:
1200℃ (HRE Fe-Cr-Al-Mo wire)
1400℃ (SiC Heater)
1700℃ (MoSi2 Heater)
Large loading capacity, easy operation, and high efficiency,
Suitable for small workpiece high temperature heating treatment.
Four-sided heating, excellent furnace temperature uniformity (< ±5 °C).
The furnace materials use the vacuum-formed high-purity alumina fiber materials,
which can bear the high temperature, excellent heat preservation performance.
Digital intelligent temperature controller with PID control, 50-segments
programmable temperature rise curve.
Electrostatic spray shell, resistant to corrosion and acid.
Increase efficiency by built double rail trolley.
Standard Spares:
High-temperature gloves
Crucible clip
Operation Manual
Optional Spares:
RS232/RS485 software
Silicon carbide / corundum board
intake hole / exhaust hole
7 inch HD touch screen
Technical Specifications
Max. temperature
1700 ℃ (<2hour)
Working temperature
800-1600 ℃
Temperature controlling

●  PID automatic control via SCR (Silicon Controlled Rectifier) power control with phase angle fired, current limiting resistor.
●  30 programmable segments for precise control of heating rate, cooling rate and dwell time.
●  Built in PID Auto-Tune function with overheating & broken thermocouple broken protection.
●  Over temperature protection and alarm allows for operation without attendant.
Optional of Temperature controlling
●  Software (Furnace can be operated by PC by installing a control software)
●  Touch screen temperature controller
Temperature accuracy
± 1℃
Temperature Uniformity
± 5℃ over 100 mm @ 1800℃
± 3℃ over 80 mm @ 1800℃
Heating rate
0-15 ℃/min
Thermocouple
B type with 99.7% purity Alumina tube
Heating element
MoSi2 heating elements
Furnace Chamber
Three layers of ceramic fiber insulation materials
●  First layer: 1800℃ ceramic fiber board
●  Second layer: 1600℃ ceramic fiber board
●  Third layer: 1260℃ ceramic fiber board
Furnace structure
Double layer steel casing with dual cooling fan, surface temperature below 60℃
Furnace door
●  Bottom loading open
●  Power cutting off when furnace door open
Working voltage
110V or 220V, 50HZ/60HZ, 1 phases (As per your order)
Warranty
●  One year limited warranty with lifetime support. (Consumable parts such as thermocouple is not covered by the warranty, please order the replacement at related products).
●  ATTENTION: Any damages caused by the use of corrosive and acidic gases are not under the coverage of One Year Limited Warranty.
Certifications
Ⅱ. Application Notes   
Using Attentions
●  Cooling rate shall also not exceed 10 ℃/min.
●  Toxic or explosive gases are not recommended for use with this furnace without necessary safety controls and supervision.
●  Small cracks may appear on the surface of the refractory ceramics over extended use. This is a normal occurrence and the cracks may be repaired with alumina coating.
Model
Max. Temp.

(℃)

Chamber size

(W*H*D)

Liter

(L)

Power

(KW)

Phase
Heating

elements

Thermo
couple
BR-12BL-8
1200
200*200*200
8
5
1

Resistance wire

K type

BR-12BL-12
200*200*300
12
6
1
BR-12BL-27
300*300*300
27
8
1
BR-12BL-36
300*300*400
36
10
3
BR-12BL-64
400*400*400
64
16
3
BR-12BL-125
500*500*500
125
25
3
BR-12BL-216
600*600*600
216
36
3
Model
Max. Temp.

(℃)

Chamber size

(W*H*D)

Liter

(L)

Power

(KW)

Phase
Heating

elements

Thermo
couple
BR-14BL-8
1400
200*200*200
8
5
1
Sic heating elements

S type

BR-14BL-12
200*200*300
12
7
1
BR-14BL-27
300*300*300
27
9
1
BR-14BL-36
300*300*400
36
11
3
BR-14BL-64
400*400*400
64
18
3
Model
Max. Temp.

(℃)

Chamber size

(W*H*D)

Liter

(L)

Power

(KW)

Phase
Heating

elements

Thermo
couple
BR-17BL-8
1700
200*200*200
8
5
1
MoSi2 heating elements

B type

BR-17BL-12
200*200*300
12
7
1
BR-17BL-27
300*300*300
27
9
1
BR-17BL-36
300*300*400
36
11
3
BR-17BL-64
400*400*400
64
18
3