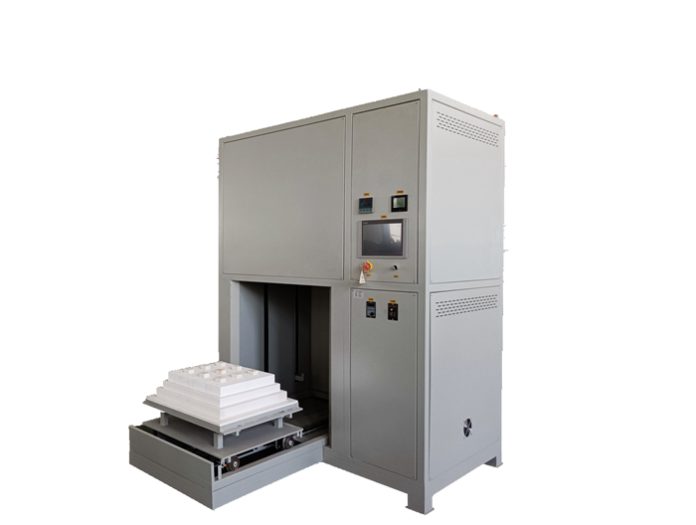 This lift-type ceramic debinding and sintering furnace is mainly used for debinding and sintering, wafer annealing, etc. It can also be used for high-temperature sintering and annealing of common metals or other materials. Maximum temperature 1700℃, ceramic fiber furnace chamber, touch screen control, lift type just needs a small area with large loading capacity.  Bogie hearth design, easy to put and take the material. Low cost, high overall production efficiency, convenient operation, loved by domestic and overseas customers.
Main features of ceramic debinding and sintering furnace
Maximum temperature 1700℃, long-term use temperature 1600℃
PLC touch screen control can record temperature curve, current curve
Good temperature uniformity, high precision temperature control
The long service life of the furnace chamber reinforced design of the furnace top
High purity silicon molybdenum rod, long service life
The lifting type needs a small area, tray lifting smoothly and reliably
In low-temperature section can achieve rapid cooling, high production efficiency
Air inlet and outlet
Bogie hearth design, easy for operation
10 sets ceramic debinding and sintering furnace are ready.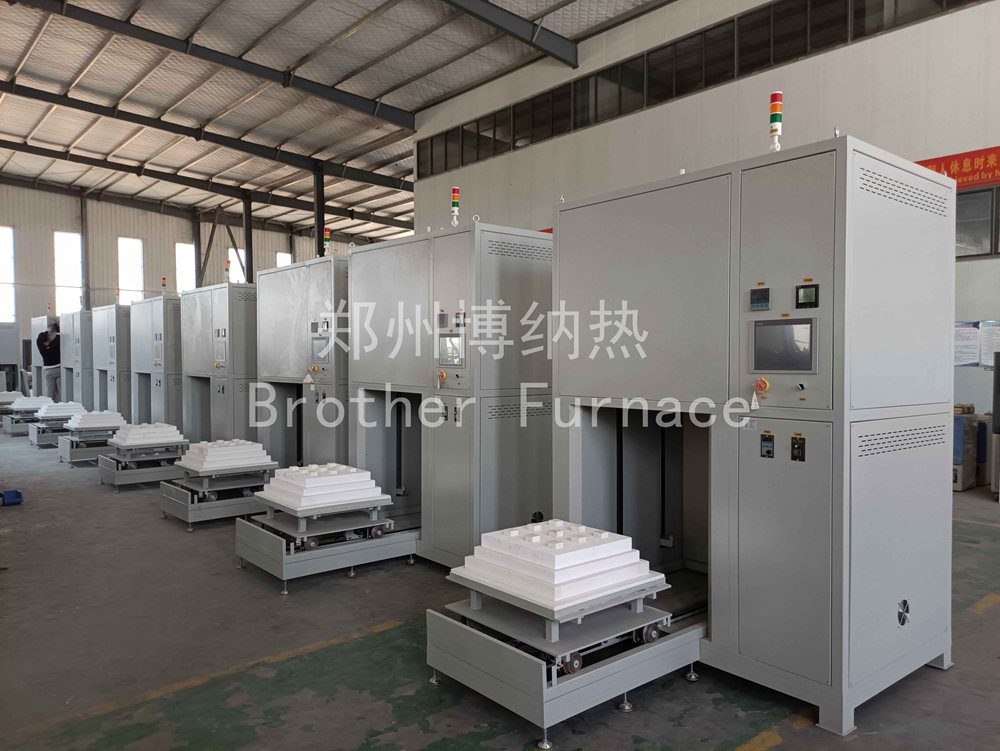 Technical Specifications

Max. temperature
1700 ℃ (<2hour)
Working temperature
800-1600 ℃
Temperature controlling
●  PLC touch screen control, can record temperature curve, current curve.
●  programmable for precise control of heating rate, cooling rate, and dwell time.
●  Overheating & broken thermocouple broken protection.
●  Over-temperature protection and alarm allow for operation without an attendant.
Temperature accuracy
± 1℃
Heating rate
0-15 ℃/min
Thermocouple
B type with 99.7% purity Alumina tube
Heating element
MoSi2 heating elements
Furnace Chamber
Three layers of ceramic fiber insulation materials
●  First layer: 1800℃ ceramic fiber board
●  Second layer: 1600℃ ceramic fiber board
●  Third layer: 1260℃ ceramic fiber board
Furnace structure
Double-layer steel casing with dual cooling fan, surface temperature below 60℃
Furnace door
●  Bottom loading open
●  Power cutting off when furnace door open
Working voltage
110V or 220V, 50HZ/60HZ, 1 phases (As per your order)
Warranty
●  One year limited warranty with lifetime support. (Consumable parts such as thermocouple is not covered by the warranty, please order the replacement at related products).
●  ATTENTION: Any damages caused by the use of corrosive and acidic gases are not under the coverage of One Year Limited Warranty.
Certifications
CE

Ⅱ. Application Notes   

Using Attentions
●  Cooling rate for this bottom loading furnace shall also not exceed 10 ℃/min.
●  Toxic or explosive gases are not recommended for use with this furnace without necessary safety controls and supervision.
●  Small cracks may appear on the surface of the refractory ceramics over extended use. This is a normal occurrence and the cracks may be repaired with alumina coating.
Ceramic debinding and sintering furnace standard size:
Model
Max.
(℃)
Chabmer size
(WxHxD in mm)
Liter
(L)
Power
(KW)
Phase
Heater
Thermo
couple
BR-17BL-8
1700
200*200*200
8
5
1
Mosi2
heating
elements
B type
BR-17BL-12
200*200*300
12
7
1
BR-17BL-27
300*300*300
27
9
1
BR-17BL-36
300*300*400
36
11
3
BR-17BL-64
400*400*400
64
18
3
BR-17BL-125
500*500*500
125
40
3
Note: other sizes can be customized.
See our other Muffle Furnace:
Follow us on Facebook