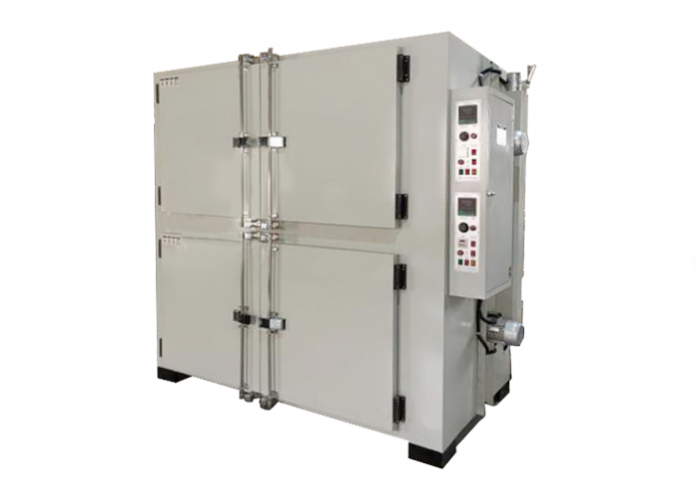 High Temperature Drying Oven, 450℃ Big Drying Oven, 304 Stainless Steel Lab Oven
450 °C high temperature oven is widely used in laboratories, electronic communication, plastics, cables, electroplating, hardware, optoelectronics, plastic products, molds, shoe materials, spraying, printing, medical, scientific research units, colleges and universities, industrial and mining enterprises, teaching special equipment , university laboratories, aerospace and higher education institutions.
Working temperature:Room temperature~450℃
The inner is made of high quality brushed 304 stainless steel; the exterior is painted with a Q235 steel plate.
The heater is made of high quality stainless steel with a finned electric heating tube, which has high temperature and long service life.
Double air duct horizontal air supply.
With timing function, over temperature protection function, timeout over temperature automatic power off alarm.
PID dual digital display intelligent temperature control, high precision.
Leakage, short circuit, overload protection; blast motor overload phase loss protection.
Optional Spares:
Multi-layer baking tray
Stainless steel baking rack
Strong exhausting
Independent electric cabinet
Explosion-proof system
Nitrogen filling system
Touch screen PLC control
Multi-point temperature measurement
Model
Width

(mm)

Height

(mm)

Depth

(mm)

Power

(KW)

Volume (L)
Voltage

(V)

Heating way
BR-DRY-27L
300
300
300
2
27
220
Electric
BR-DRY-70L
450
450
350
3
70
220
Electric
BR-DRY-136L
550
550
450
3.6
136
220
Electric
BR-DRY-225L
600
750
500
4.5
225
380
Electric
BR-DRY-640L
800
1000
800
9
640
380
Electric
BR-DRY-1000L
1000
1000
1000
12
1000
380
Electric
BR-DRY-1440L
1200
1200
1000
15
1440
380
Electric
BR-DRY-1880L
1200
1500
1000
21
1880
380
Electric
BR-DRY-2700L
1500
1500
1200
27
2700
380
Electric