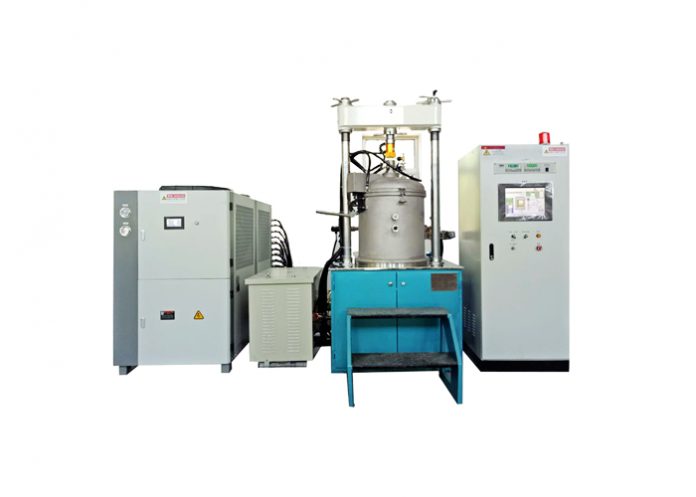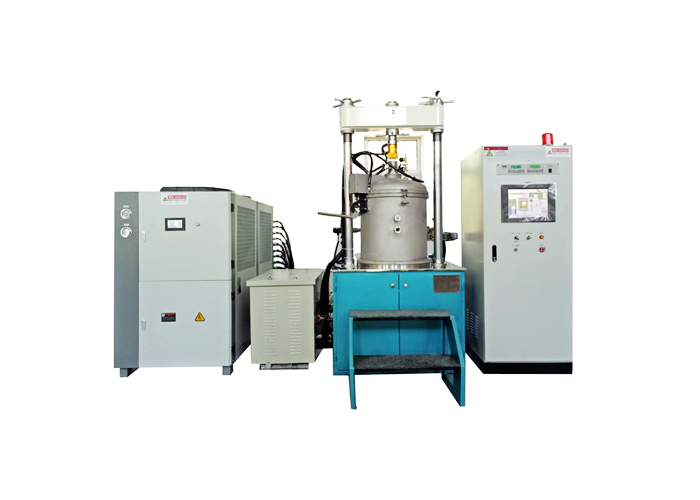 This vacuum hot press furnace mainly used for the high temperature sintering and hot press treatment, such as inorganic material, hard alloy, function ceramic, metallurgy powder. The material density could be increased under vacuum conditions or a protective atmosphere.
Vacuum Hot Press Furnace Features:
The heating element could be selected according to the difference in hot press temperature and vacuum level.
2 different type Vacuum Hot Press Furnace:
– The resistance module is suitable below 1200℃
– The graphite heater is suitable for over 1200℃. (2200℃ Max)
The press range is adjustable below 5 tons so that it is can be used for sample sintering and hot press testing to avoid resource waste.
Ranging by a grating ruler with high accuracy to 0.02mm.
All the actions of a vacuum hot press furnace could be controlled by a PLC system, including temperature control, press adjustment, and temperature auto-tracking. All the vacuum press furnace running monitoring and data could be displayed and recorded on the touch screen, such as temperature, vacuum level, and displacement. The data curve could check in real-time.
W-Re thermocouple at low temperature and infrared thermocouple at high temperature. The W-Re thermocouple will auto-quit at high temperatures.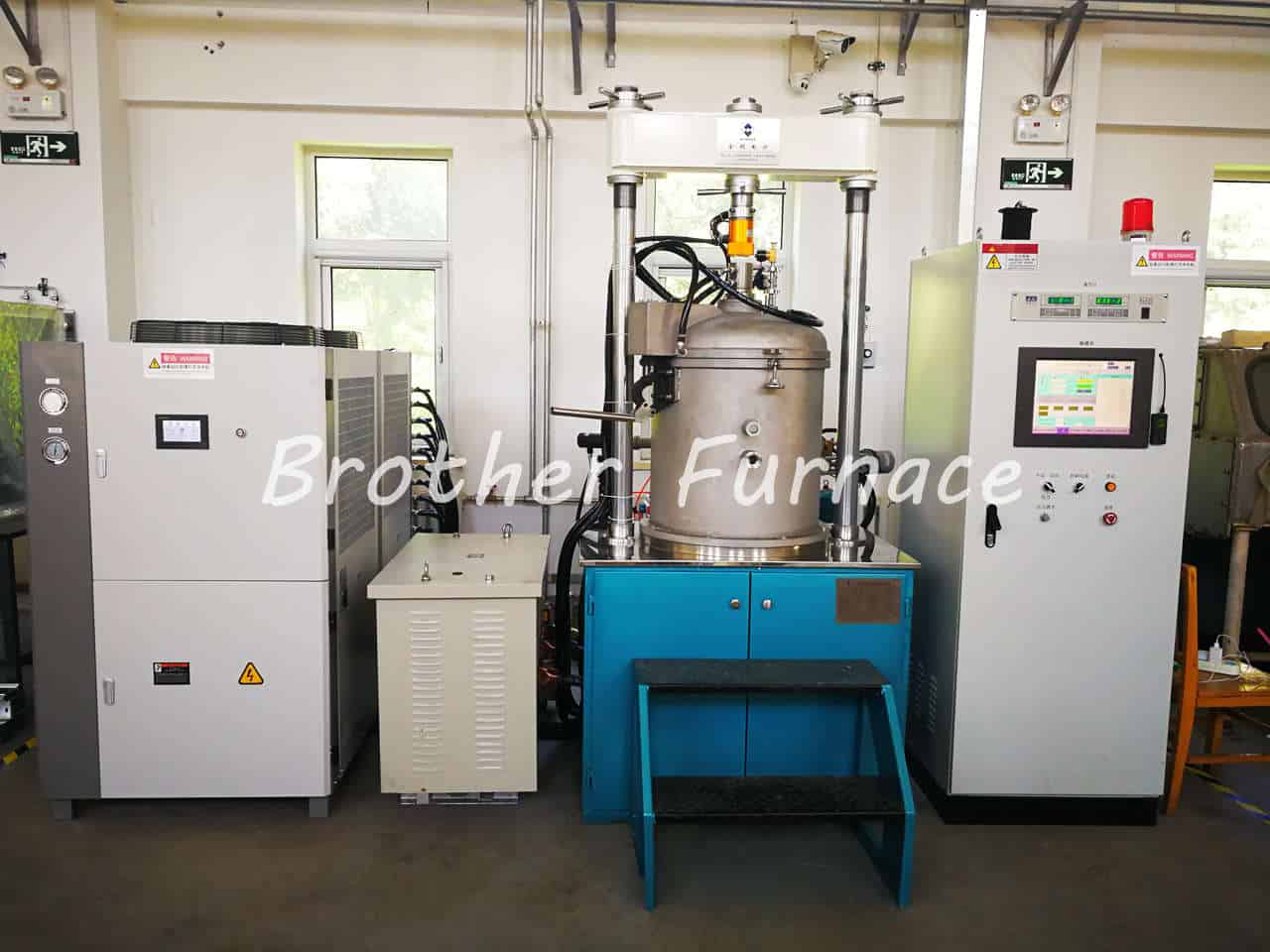 Technical Parameters
Chamber size
φ160mmx 160mm (Diameter x Height)
vacuum hot press furnace
Temperature control zone
One zone
Max. temperature
2200 ℃
Working temperature
2000 ℃
Pressure head of
vacuum press furnace
High purity carbon graphite dia80mm (Bearing pressure not more than 63MPa)
Max. travel distance
100mm (Single-track pressing from the bottom)
Accuracy of traveling
±0.05mm
Max. pressure
0–50T (Adjustable pressure by the handle and automatic freely, and the fluctuation of pressure is less than 0.05MPa)
Ultimate vacuum
6.67 x 10-3pa (cooling state)
Working vacuum
6.67 x 10-2pa (heating state, less than 1200 oC)
Vacuum leakage rate
Less than 0.67 Pa/h
Electric control
The chain function of overheating, overpressure, low water pressure, and over-gas pressure can be achieved in all sorts of electric elements.
Temperature controlling
50 steps Programmable auto-control.

Low-temperature thermocouple is a tungsten-rhenium thermocouple

High-temperature thermocouple is an Infrared temperature instrument.

PLC control for Vacuum Hot Press Furnace

The panel display and electric chain
Current, voltage, temperature, vacuum, water pressure display, electric chain, and different circuit branches recycle cooling water and sound-light alarming.
Heating element
Carbon graphite
Insulation material
Carbon graphite hard felt + graphite soft felt
Filling gas
The experiment was protected by Argon, Nitrogen, and other inert gas.
Filling gas pressure
≤0.05MPa
Furnace structure
The top open door, the inner body layer is SUS304 stainless steel, and the outer layer is carbon steel.
Water cooling
Require an extra water cooling machine. (buy additionally)
Rated power
80kW
Rated voltage
380V  3P
Power frequency
50HZ
Vacuum hot press furnace stander model:
Model

Chamber size(mm)

Max. temp(℃)

Press(T)

Displacement


(mm)

Power
(kW)

Ultimate vacuum(Pa)

BR-RYL-10

Ф160×160

2200

20

100

25

6×10^(-3)

BR-RYL-20

Ф200×200

2200

20

150

60

6×10^(-3)

BR-RYL-30

Ф300×300

2200

20

200

120

6×10^(-3)

BR-RYLA-10

Ф160×160

1200

20

100

8

6×10^(-3)

BR-RYLA-20

Ф200×200

1200

20

150

12

6×10^(-3)

BR-RYLA-30

Ф300×300

1200

20

200

20

6×10^(-3)
More Vacuum Furnace:
Follow us on Facebook