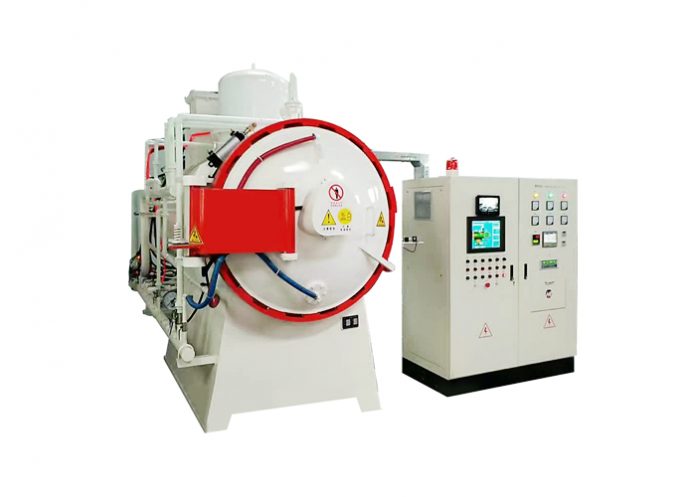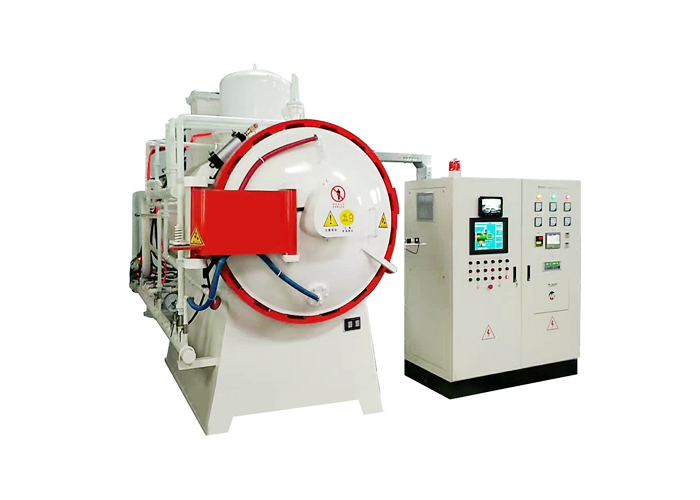 Vacuum gas/oil quenching furnace
Vacuum Gas / Oil Quenching Furnaces mainly used to process critical parts of aerospace, defense, ordinance factories components, and also for industrial applications.
Vacuum oil / gas quenching is playing a significant role in heat treating applications. Now, these vacuum based oil / gas quenching processes have gained large popularity, and important advantages in a large number of heat treating applications.
Description
Vacuum oil quenching technology is environmentally friendly and offers advantages such as:
Superior control of surface chemistry compared to salt bath or controlled atmosphere processes.
Ability to harden thick sections and heavy loads in a wide variety of steels.
Ability to process finished surfaces without decarburization, so parts processed by vacuum oil quenching do not require plating or protective coatings.
Our vacuum oil quench furnaces can be equipped with an optional gas quench capability.
Technical Specifications
Chamber size
100x100x100mm (Width * Height * Depth) The size can be customized
Max. temperature
1700℃ (<2hour)
Working temperature
800-1600 ℃
Temperature controlling

●  PID automatic control via SCR (Silicon Controlled Rectifier) power control with phase angle fired, current limiting resistor.
●  30 programmable segments for precise control of heating rate, cooling rate and dwell time.
●  Built in PID Auto-Tune function with overheating & broken thermocouple broken protection.
●  Over temperature protection and alarm allows for operation without attendant.
Temperature accuracy
±1 ℃
Temperature Uniformity
±5℃ over 100 mm @ 1600℃
±3℃ over 80 mm @ 1600℃
Heating rate
0-20℃ /min
Thermocouple
B type (Pt-Rh to Pt-Rh) with 99.7% purity Alumina tube
Heating element
U type MoSi2 heating elements
Max vacuum
0.007 Pa
Furnace Chamber
Three layers of ceramic fiber insulation materials
●  First layer: 1800℃ ceramic fiber board
●  Second layer: 1600℃ ceramic fiber board
●  Third layer: 1260℃ ceramic fiber board
Furnace structure
Double layer steel casing with dual cooling fan (water cooling optional)
(surface temperature below 60℃)
Furnace door
●  Front open to aside, high sealing
●  Power cutting off when furnace door open
Outer dimension
About 1620x1000x1500mm
Working voltage
110V or 220V, 50HZ/60HZ, 1 phases (As per your order)
Rated power
1KW
Weight
Net Weight: about 95kgs
Gross Weight: about 125kgs
Warranty
●  One year limited warranty with lifetime support. (Consumable parts such as heating elements and crucibles are not covered by the warranty, please order the replacement at related products)
●  ATTENTION: Any damages caused by the use of corrosive and acidic gases are not under the coverage of One Year Limited Warranty.
Certifications
CE
Application Notes   
Using Attentions
●  Cooling rate shall also not exceed 10℃ /min.
●  Toxic or explosive gases are not recommended for use with this furnace without necessary safety controls and supervision.
●  Small cracks may appear on the surface of the refractory ceramics over extended use. This is a normal occurrence and the cracks may be repaired with alumina coating.