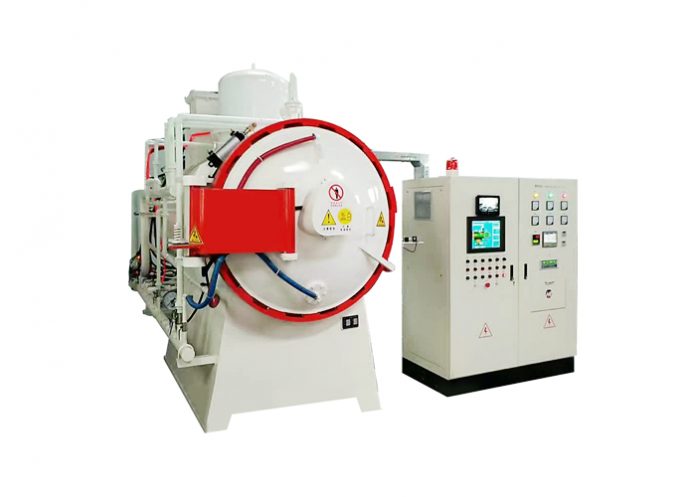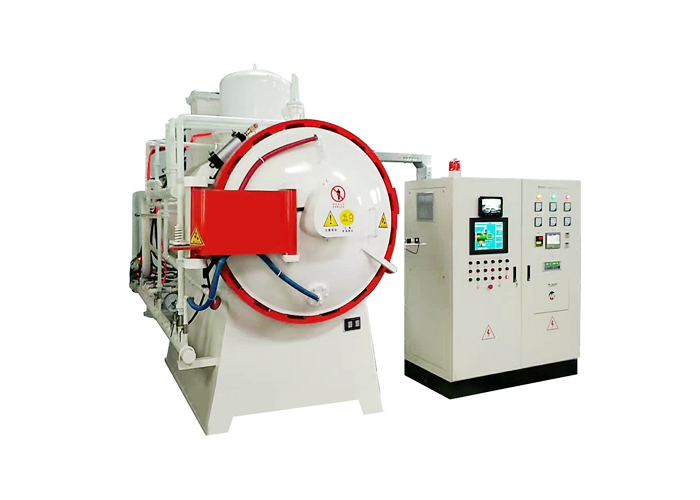 High Temperature Vacuum oil quenching furnace
The vacuum oil quenching furnace is mainly used in bright quenching and annealing of alloy steel, tool steel, die steel, high speed steel, bearing steel, spring steel, stainless steel. Also used in vacuum sintering of ceramic and hard alloy, metal material brazing, etc. The furnace is mainly composed by graphite chamber, graphite felt induction, PLC control system.
Vacuum oil quenching furnace features
Adopt the graphite tube as the heating element, with long lifetime and easy maintenance.
The compound flash-board has excellent heat insulation and trapping effect.
The structure is a double room, the back room is for heating, and the front room is for oil and gas cooling. The upside is a gas quenching room and the downside is oil quenching room, including lifting device, charging device, oil mixing device and oil heating device.
Lifting device: The lifting skip car is driving by screw and nut, and driving by a three-speed gear motor. There are three speed on lifting skip car, low speed for sending material, low speed start, high speed oil quenching and low speed location.
Oil mixing system: The mixer is driving by the reducer, the deflector could promote the circular flowing of vacuum quenching and promote the oil cooling capacity. The mixer is a standard part with low noise and high efficiency.
The workpiece transfer is smooth and flexible, safe, and reliable.
The gas cooling cover adopt staggered teeth flange structure to ensure the sealing in positive and negative pressure.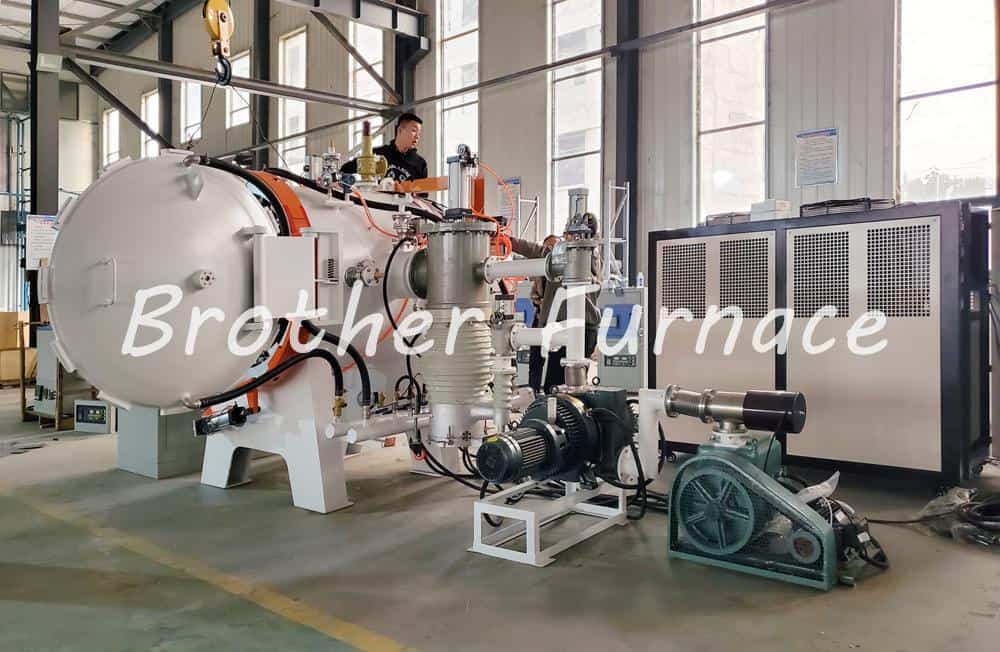 Technical Specifications

Chamber size
300x300x450mm (Width * Height * Depth) The size can be customized
Max. temperature
1320℃ (<2hour)
Working temperature
1300 ℃
Temperature controlling
●  PLC or PID auto control
●  Over temperature protection and alarm allows for operation without attendant.
Temperature accuracy
±1 ℃
Temperature Uniformity
±5℃
Heating rate
0-20℃ /min
Thermocouple
S type
Heating element
Graphite heater
Max vacuum
0.007 Pa
Furnace Chamber
Graphite felt
Furnace structure
Double layer steel casing with dual cooling fan (water cooling optional)
(surface temperature below 60℃)
Furnace door
●  Front open to aside, high sealing
●  Power cutting off when furnace door open
Working voltage
110V or 220V or 380V, 50HZ/60HZ, 1 phases (As per your order)
Rated power
50 KW
Capacity
100 kgs
Warranty
●  One year limited warranty with lifetime support. (Consumable parts such as heating elements and crucibles are not covered by the warranty, please order the replacement at related products)
●  ATTENTION: Any damages caused by the use of corrosive and acidic gases are not under the coverage of One Year Limited Warranty.
Certifications
CE
Vacuum oil quenching furnace standard model:
Model
Chamber size(mm)
Max.Temp
(℃)
Capacity
(kgs)
Temperature uniformity(℃)
Power
(kW)
Ultimate vacuum
BR-YCL-334
300*300*450
1320
100
±5
50
6×10^(-3)
BR-YCL-446
400*400*600
1320
200
±5
80
6×10^(-3)
BR-YCL-557
500*500*700
1320
300
±5
120
6×10^(-3)
BR-YCL-669
600*600*900
1320
500
±5
150
6×10^(-3)
More Vacuum Furnace:
Follow us on Facebook