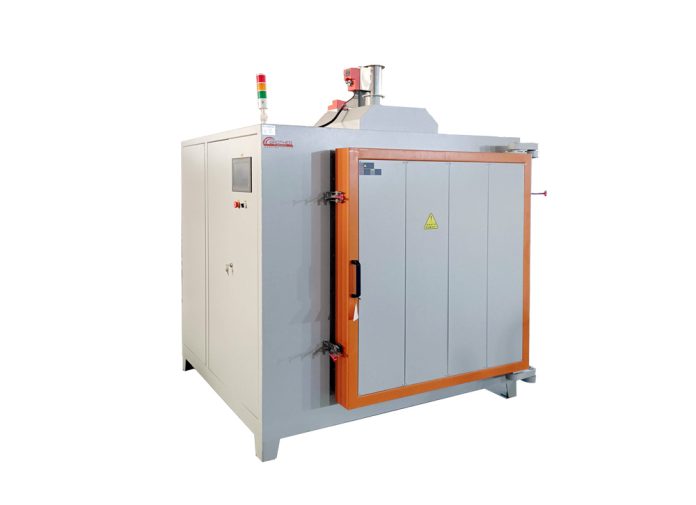 This new debinding pyrolysis furnace is composed of an air preheating system, debinding furnace, and pyrolysis furnace.
Debinding Pyrolysis Furnace Features
Intelligent Control
Uniform Temperature
Stable Operation
Durable & Reliable
Debinding Pyrolysis Furnace Details
1. Air Preheating Furnace
Chamebr size: Φ130 mmx600 mm
Equipped with Rotameter with flowrate of 15-150m/h.
The fan and heating device have a linkage to match the program and increase the heating lifetime.
The fan frequency, air flow, and temperature could be set by an HD touch screen with a button start.
2. Debinding Furnace
The chamber adopts 310S stainless steel material, the working size is 800x800x1000mm.
The furnace has an active preheating gas inlet and passive safety gas inlet system and also has a two-way gas outlet to increase the debinding efficient.
The furnace equip a high rotation speed spoiler fan, the debinding temperature uniformity is less than ±5℃ The heating mode is three sides: left, right, and bottom, the temperature control is separate, and synchronous interlock.
3. VOC Flue Gas Pyrolysis Furnace
The special gas circuit design is able to ensure the VOC flue gas stays enough time at high temperature zone and then completes pyrolysis.
The draught fan is variable frequency adjustable and the maximum volume is 2800m/h, so it effectively improves the debinding efficient upper limit.
There are two K type thermocouples to achieve real-time monitoring for the debinding temperature. When the flue gas (tar, paraffin, and resin, etc) quantity is large, please select the specified debinding tank to ensure the pyrolysis effect.
* If you need a special size or special design, feel free to contact us.
Follow us on Facebook