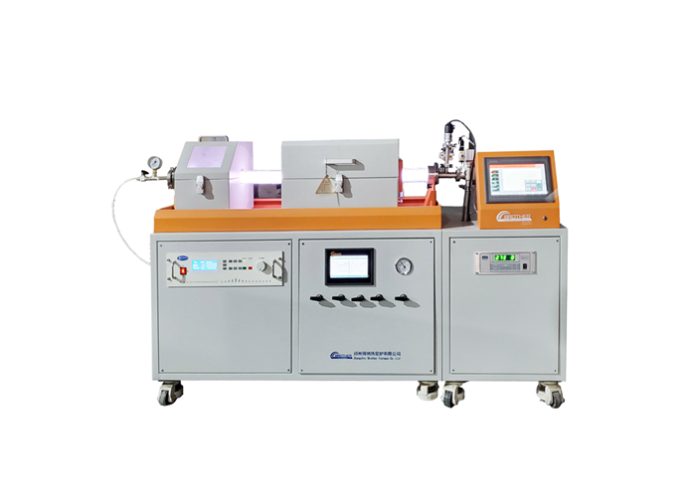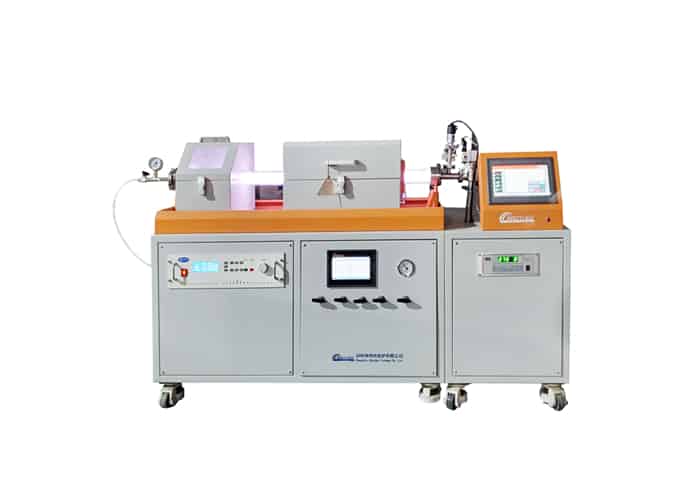 1200C Max. Lab PECVD Furnace with Gas Delivery & Vacuum Pump
Intelligent PECVD Introduction:
PECVD system is designed to decrease the reaction temperature of traditional CVD. It installed RF induction equipment in front of traditional CVD to ionize reacting gas, so the plasma is generated. Plasma's high activity is Reaction is accelerated due to the high activity of plasma. So, this system is called PECVD.
This model is the newest product, it synthesized the advantages of most PECVD furnace systems, and added a pre-heating zone in the front of the PECVD furnace system. Tests showed that the deposition speed is quicker, the film quality is better, holes are less, and won't crack. AISO fully automatic intelligent control system is independently designed by our company, it is more convenient to operate and its function is more powerful.
Wide application range of PECVD furnace: metal film, ceramic film, composite film, the continuous growth of various films. Easy to increase function, can expand plasma cleaning etch and other functions.
Lab PECVD Furnace Video
PECVD Furnace Features:
High film deposition rate: RF glow technology, greatly increasing the deposition rate of the film, the deposition rate can reach 10Å / S
High area uniformity: Advanced multi-point RF feeding technology, special gas path distribution, and heating technology, etc., make the film uniformity index reach 8%
High consistency: using the advanced design concept of the semiconductor industry, the deviation between the substrates of one deposition is less than 2%
High process stability: Highly stable equipment ensures a continuous and stable process.
PECVD Furnace in Testing: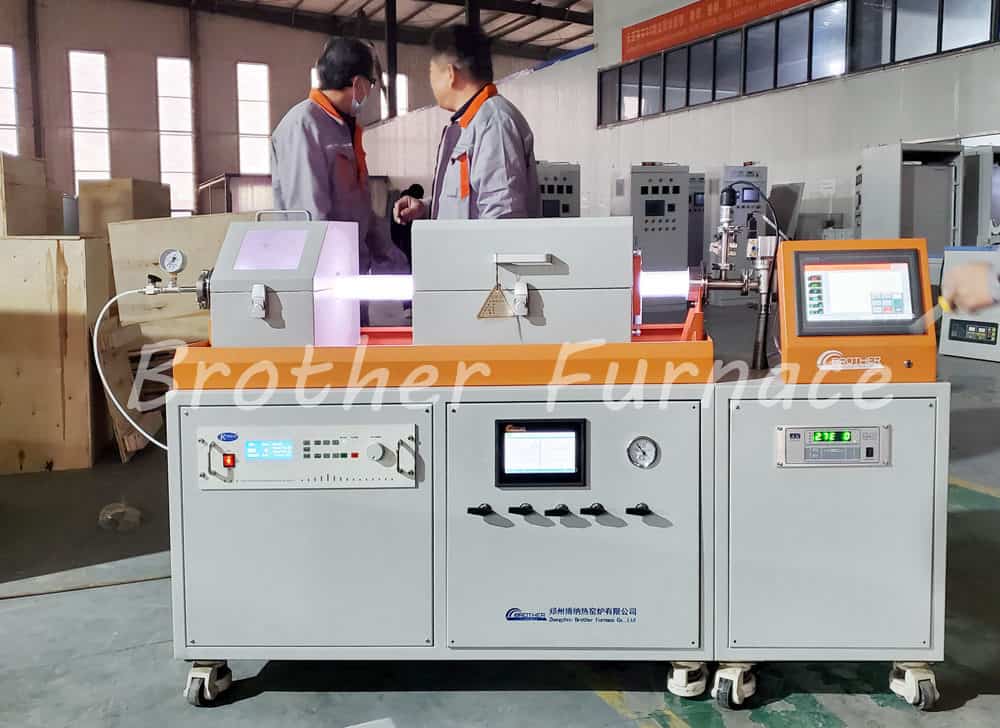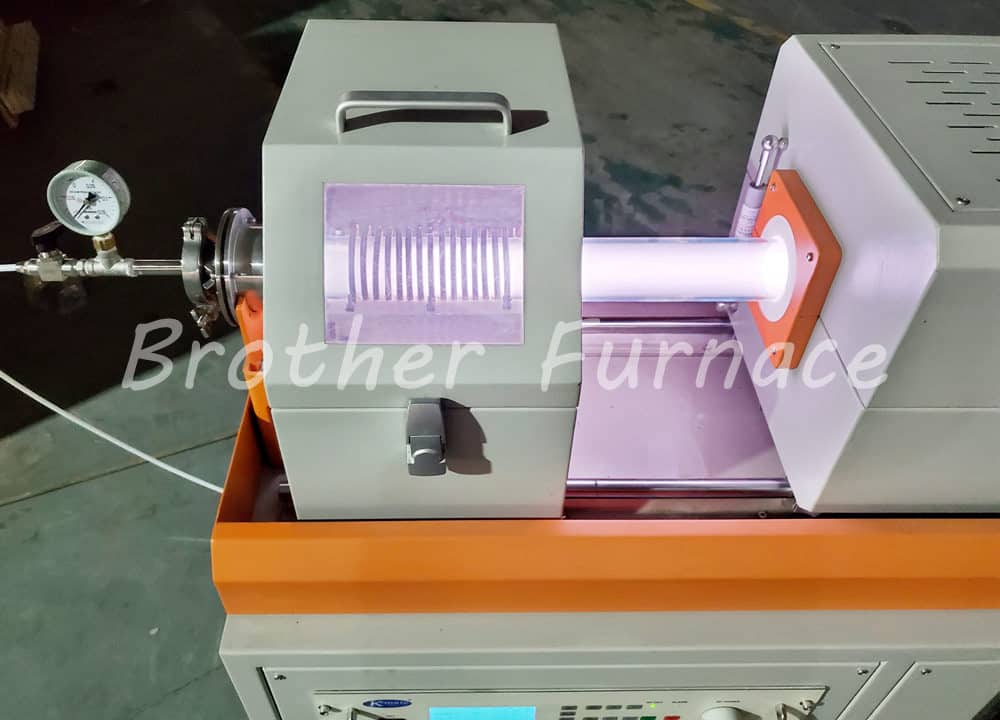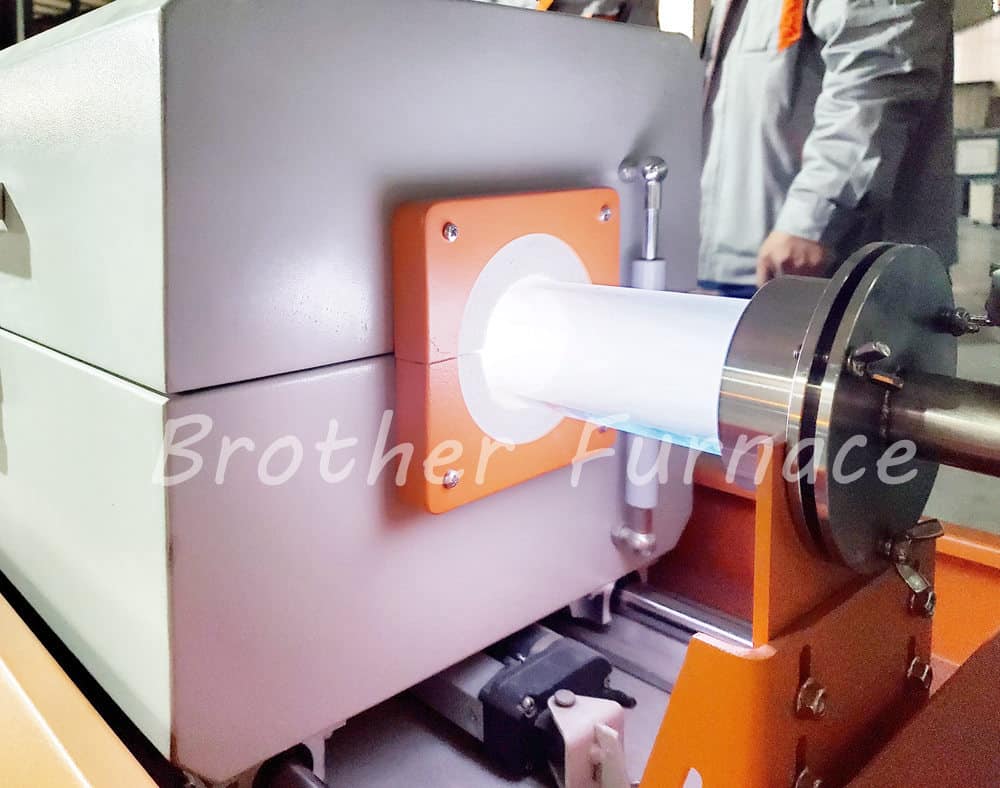 PECVD Furnace Standard Spares:
Plugging tube 4 pcs
Furnace tube 1 pc
Vacuum pump 1 pc
Vacuum sealing flange 2 sets
Vacuum gauge 1 pc
Gas delivery & vacuum pump
RF plasma equipment
PECVD Furnace Optional Spares:
Quick release flange, Three-way flange
7 inch HD touch scree
1200℃ PECVD Tube Furnace Standard specification:
1. Heating System

Max.temperature
1200℃ (1 hour)
Working temperature
≤1100℃
Chamber size
Φ100*1650mm (Tube diamater is customizable)
Chamber material
High purity alumina fiber board
Thermocouple
K type
Temperatureaccuracy
±1℃
PECVD furnace

Temperature control

● 50 programmable segments for precise control of heating rate, cooling rate and dwell time.

● Built in PID Auto-Tune function with overheating & broken thermocouple broken protection.

● PLC automatic control system by PC controller inside.

● The temperature control system, sliding system (Time and Distance) could be controlled by program.

Heating length
440mm
Constant heating length
200mm
Heating element
Resistance wire
Power supply
Single phase, 220V, 50Hz
Rated power
9kW

2. RF Plasma Source

RF frequency
13.56 MHz±0.005%
Output power
500W
Max reflect power
500W
RF output interface
50 Ω, N-type, female
Power stability
±0.1%
Harmonic component
≤-50dbc
Supply voltage/Frequency
Single phase AC220V 50/60HZ
Whole efficiency
>=70%
Power factor
>=90%
Cooling method
Forced air

3. Three precision mass flowmeters control system of PECVD furnace

External dimension
600x600x650mm
Connector type
Swagelok SS joint
Standard range (N2)
0~100sccm, 0~200sccm, or customizable
Accuracy
±1.5%
Linear
±0.5~1.5%
Repeatability
±0.2%
Response time
Gas property: 1~4 Sec;
Electrical property: 10 Sec
Pressure range
0.1~0.5 MPa
Max.pressure
3MPa
Interface
Φ6,1/4"
Display
4 digit display
Ambient temperature
5~45 high purity gas
Pressure gauge
-0.1~0.15 MPa, 0.01 MPa/unit
Stop valve
Φ6
Polish SS tube
Φ6
Low vacuum system included
See our other tube furnaces:
Follow us on Facebook